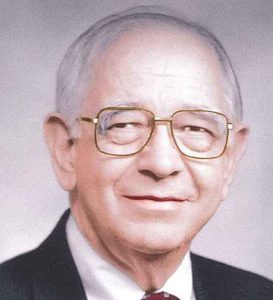 Foy Dan Valentine
July 3, 1923 – January 7, 2006
Edgewood, Texas – Dallas, Texas
Dr. Valentine was the founding editor of Christian Ethics Today Journal.
The Rest of the Story
In 1995 Foy Valentine developed a grand plan—a Center for Christian Ethics at Baylor University. His vision combined three vital elements—a Journal of Christian Ethics, a Center for conferences and research, and a Director who would also teach Christian ethics at the new Truett Seminary.*
Foy named the journal Christian Ethics Today (CET) and began publishing it out of his own home, sending the first issue to a few hundred of his friends. By 1998, readership had grown to almost 2000, and plans for the Center at Baylor were developed and submitted to President Sloan of Baylor and the Regents.
The struggle began. First, the Baylor president wanted Truett to be a European-type seminary—small (no more than 100 students) and one that taught ethics as a part of theology—mainly theological ethics. (James McClendon derided this approach noting ethics "is always left until the last, and then usually left out!"). In addition, Foy was told some regents had read an article in CET which questioned the "free market system," and they wanted Baylor to have no such publication on their campus.
Foy was frustrated. Yet, being a "practical-minded politician," he decided half a loaf was his only choice, and so the Center for Christian Ethics at Baylor was born. Today it holds conferences, publishes a journal, and has a notable staff—however, the director teaches philosophy at the university—Truett still does not have a Christian ethics teacher, though it has grown much larger than originally planned!**
The directors of the Journal decided to continue publishing CET as an independent voice for Christian ethics by dissolving the former entity, electing a new Board of Directors, and finding a new editor.
I was in transition after early departure from the Baptist seminary in New Orleans (where I had taught Christian ethics for 15 years)—the first Board had interviewed me about the initial position that was nullified by Baylor leaders. I gladly accepted the new position.
It is important to note here (as is printed on the back page of every issue), that Foy insisted from the beginning that the Journal "should be sent free of charge to anyone requesting it" and continued "as long as money and energy permit" (can you see Foy's wry smile as he adds this last phrase?).
The new Board wondered how long this unique arrangement would last. Yet, the early 2000 readers have grown this past decade to 6000 plus. Although most are unable to support the journal financially, about 900 readers each year give about $25-50, with a few dozen who are financially blessed able to give $500 to $1000, and a few a bit more.
Other publishers, struggling to survive, are amazed that CET has been able to not only continue to publish, but grow in numbers. Foy's vision was not a pipe-dream! . . .